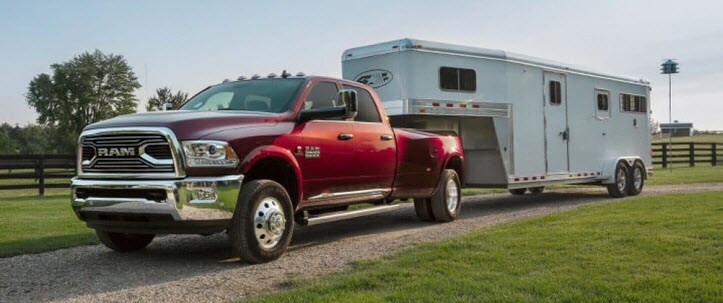 Gross Vehicle Weight Rating
The Gross Vehicle Weight Rating is the total maximum allowable weight of a fully loaded vehicle, including passengers and payload-but excluding all towing. This is the total amount of curb weight, cargo weight and passenger weight combined.


Gross Trailer Weight Rating


The Gross Trailer Weight Rating is the total weight of the trailer plus the maximum allowable cargo in it.


Gross Combined Weight Rating


The Gross Combined Weight Rating is the maximum allowable weight of the towing vehicle and the loaded trailer-including all cargo and passengers-that the vehicle can handle without risking damage.
The three most wanted things in a towing vehicle: Power, Power and Power
And our Ram Trucks have plenty of it. Whether you choose the 5.7L Hemi Gas V8 or our 6.7L Cummins Turbo Diesel with 800 ft lbs of torque, Ram Trucks deliver the power to tow.
Towing & payload are critical to truck buyers. That is why Lake Wales Chrysler Dodge Jeep Ram provides tools to make it easier for you to specify the right truck for your needs. From simple towing basics to detailed payload specifications - we have you covered.
If you would like to learn more about trailer towing or to determine what a new Ram Truck will tow, just click on the link below. To find out what your current Ram Truck will tow (2009 or newer) click on the link below, then click on the red box titled "Look up my vehicle" and enter the VIN of your Ram into the field.
If you have any questions, please contact us and we will be happy to provide you with additional information.